From the Angel's Booster Club October 2019 Newsletter:
1st VP/Speakers Amber Cisco
I want to say thank you to our member Judy Lavin for putting us in contact with our September speaker Eric Gray. It was a delight to have him come to our meeting and read from his book, "Bases to Bleachers". Eric read stories that everyone in attendance connected with and it all started with the simple question of, "What's your favorite game that you've been to?" For Eric, one of his was the game where Mickey Mantle's number was retired, but it is also a game that took place in August of 1992. That was a game he took his children to and it is where his daughter fell in love with the game of baseball. After asking the question to his family, Eric started sending emails to other friends and family asking them to share their stories. He sent this email to one particular friend named Andy as a joke. This friend is not and has never been a fan of baseball, so when Eric got a response back with an amazing story he knew at that moment that he needed to write a book. In the course of the past few years and with a lot of support from his wife not only was he able to bring Bases to Bleachers alive, but he has collected over 1250 stories.
It was amazing to listen to these stories and realize just how much of an impact baseball has had on all our lives. These stories, as Eric told us, encompassed all of our emotions from happy to funny and from sad to inspirational.
If you haven't already picked up a copy of Eric's book, Bases to Bleachers, I would recommend that you do. I know many of our members have interesting and entertaining stories that they plan on sharing with Eric and I look forward to seeing them in future editions of his book.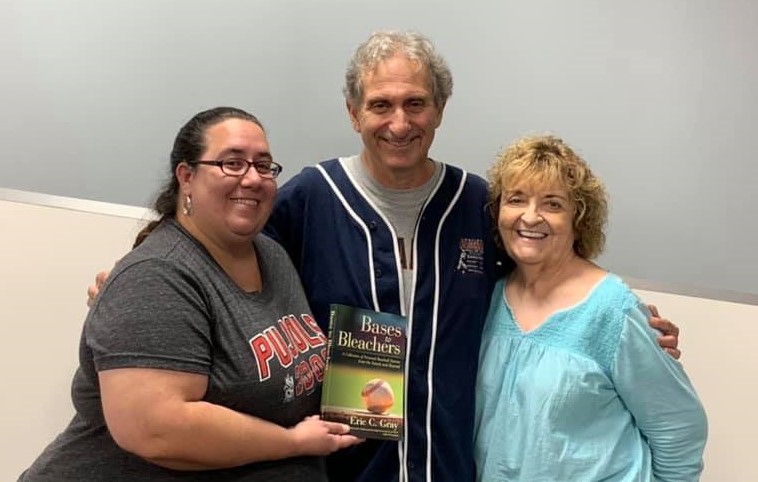 ---
Dear Eric,
Last night's event was magical and delightful! Thank you so much for inviting me—it made my day, and it gave me the chance to meet two special people, Ed and his daughter, Jennifer.
...
Your book is doing what MLB is not: bringing fans together to celebrate our national pastime. The sharing of stories and oral histories are absolutely vital as part of American history and culture. Thank you so much for producing this magical tome. Your love and passion for the game shines through, producing a warmth and glow that is good for the soul.
...
Best,
Jon (Leonoudakis)
The game of baseball is timeless, and so are our memories. The worst day of my life occurred in October of 1960 when the Pirates' Bill Mazeroski homered against New York Yankees' pitcher Ralph Terry in the ninth inning of game 7 to win the World Series. The game was historic -- because the Yankees lost, and Casey Stengel was fired. This 14-year-old learned the lesson that nothing ever stays the same. Time marches on.

"Everyone who loves baseball has a story like that. This wonderful book by Eric Gray compiles them.

-- Peter Golenbock, author of Dynasty, The Bronx Zoo (with Sparky Lyle), and Number 1 (with Billy Martin).
Eric Gray's book pays homage to the love of "the one constant through all of the years", the game of baseball. He does so with an anthology of anecdotes from ordinary fans(and some celebrities) about what baseball means to them, and how the game made memories that have lasted from generation to generation. I thought I would take my time and read the book in short passages since you can pick it up anywhere and not lose context. Instead, I could not stop reading it. I finished it in less than three days because each anecdote provided some comfort and meaning that I could identify with as a baseball fan. Some stories, especially the ones about special needs children, made me choke up with tears - Harold Kasselman
Spent the evening with a new old friend, who has written a TREMENDOUS book chock full of baseball stories told from a fan's viewpoint. This collection is a treasure, and MUST be on the bookshelf of anyone who considers themselves even a casual fan of the game. It'll make you smile, it'll make you cry, but most of all it'll make you fall in love with this game all over again. – Jim Kulhawy
Reviews from Goodreads:
https://www.goodreads.com/user/show/8511956-lance
Anyone who has even a passing interest in baseball will have a story or two or ten to tell about the game. From a simple question to his family, Eric C. Gray has taken that question and developed it into a wonderful collection of baseball stories gathered from people across the world in this book.
A vast majority of the stories are a joy to read. Not all, but most – as is the case for any type of collection like this, there will be some stories that readers may not enjoy and that was the case for me. As for the good-to-excellent pieces, some are funny, some are tear-jerkers, some are proud moments of accomplishment, and some involve love at the ballpark. Not only are the stories varied in their themes and interests, so are the contributors as Gray received stories from all over the globe for inclusion in the book.
Written by fans for fans, this excellent collection of baseball stories is sure to have something for everyone. Because it is a collection, the book can be digested in whatever manner a reader wishes. It can be read for a short time, picked up later and continued or a reader can read through the stories in one sitting. No matter how someone reads it, "Bases to Bleachers" is sure to be a hit with any baseball fan.
I wish to thank Mr. Gray for providing a copy of the book in exchange for an honest review.
Hey baseball fans,

It's been 45 years since the Chevrolet commercial introduced the jingle "Baseball, Hot Dogs, Apple Pie & Chevrolet." (For those of my generation, try to get that tune out of your mind now.)

As far as I'm concerned, the only noun that survived as being a truly American phenomenon is baseball. There is nothing like going to a ballpark. It's fun when your team wins, but it's a magical event win or lose. At least that's how baseball fans like me feel.

Eric's love of baseball and, in turn, love of fans has given us a wonderful read. You'll laugh, you'll cry, you'll reminisce all the while hearing the sounds, smelling the smells and dreaming the dreams.

Read this book, you'll love it.
For more go to
https://www.goodreads.com/book/show/45144933-bases-to-bleachers#other_reviews