We've Met Before!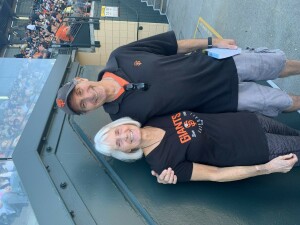 In October 2019, Robin Young, from NPR's Here and Now, interviewed me for my first book, Bases to Bleachers. I received a couple of emails as a result, one from a woman named Nancy Haskett, telling me how she had bought my book after hearing the interview, and including her own personal story. It was about participating in a Civil War re-enactment with her son's family working in the commissary and serving food. At the end of the day, everyone retreated to their own campsites, and her son, realizing the Astros-Yankees playoff game was on, turned on the radio to hear Jose Altuve's walk-off home run. At that point, they heard yelling and screaming from all over the campsite.
It was a great story, and I told her that when the book arrived, she should turn to page 259, a terrific story that would remind her of her own, contributed by my friend
Dale Edward Chenoweth
. But her name sounded familiar to me, so before I sent the email, I checked my files, and sure enough, she had emailed me several years before with.
I went on to tell her that she probably didn't remember, but that she and I had met before, when she sat behind me at a Giants game. And that she had indeed sent me something, a poem that her husband had written.
Her response: "Oh my God, I remember now!" That began our occasional correspondence about the Giants, family, and other things. Nancy and I had a lot of things in common, chief among them our love of the Giants and especially music. We finally met up again, at the last Giants game of the 2022 season.
Please contact me if you have a story to share or are interested in getting a copy of Backyards to Ballparks.
You can find the whole story on P. 160 in the chapter
I Saw it on TV, I Heard it on the Radio
in
Backyards to BallParks.