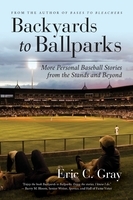 This is a new collection of baseball stories, peoples' personal experiences with the game. They are happy and sad, historical and emotional. Whether about
befriending Hank Aaron because of a mixed music tape, catching or not catching that prized ball, re-telling the memory your grandpa passed down to you, or finding out some life-changing news while at a game,
from around the country to all around the world, they touch a spot in our hearts, confirming that Baseball is Life.
​
​
From Bases to Bleachers, Introduction:
"I think you'll find this to be a very different kind of baseball book. I love reading biographies, or books about teams, seasons, eras, or accomplishments. Like other baseball fans, I enjoy and remember the stats, and love good analysis. But this book is different. It's from the fans' perspectives (or players, or coaches, or umpires). It's a human interest book in a baseball setting, rather than a baseball book. These are the stories of everyday folks like me, who aren't in the public's consciousness. I have been fortunate enough to get stories from some great, known writers, a couple of ballplayers, and a few other famous folks. But the essence of this book revolves around the experience that students, working people, and retirees have had regarding their love of our national pastime. I hope you laugh, cry a little, and shake your head in amazement at these stories, like I did."