MEDIA KIT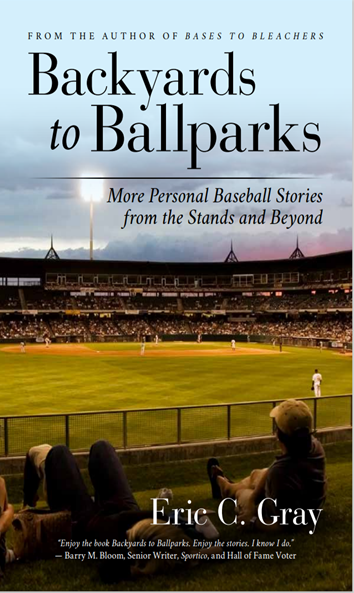 Backyards to Ballparks: More Personal Baseball Stories From the Stands and Beyond
Author Eric C. Gray
---
---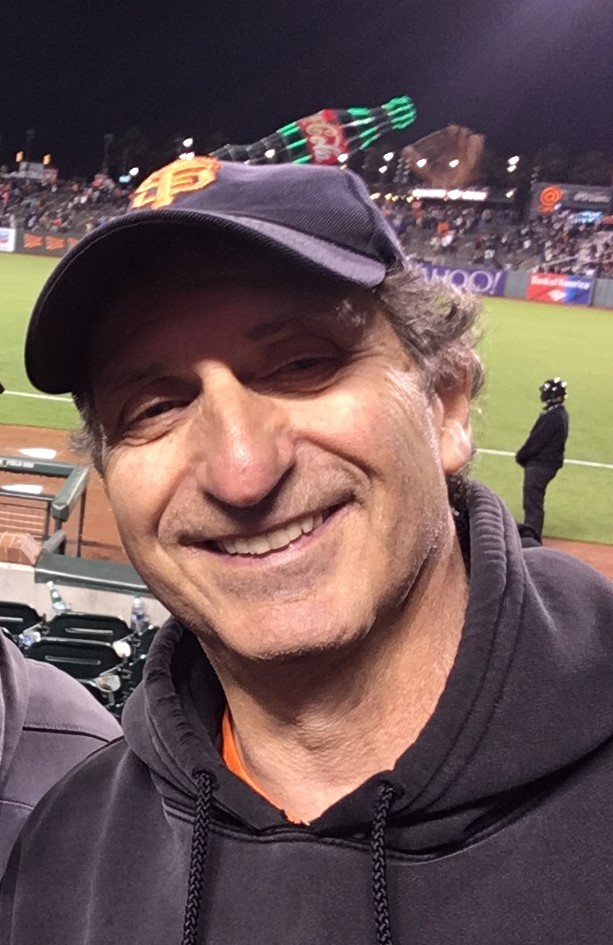 ABOUT THE AUTHOR
Eric Gray is originally from Plainview, New York, and earned his BA from SUNY New Paltz. He came to San Francisco in 1974, where he began a 39-year career at the U.S. Department of Labor, administering job training and employment programs for disadvantaged youth, most of that time spent with the Job Corps program. He met his future wife, Lynn Rhodes, on his first day at the Department of Labor and never moved back to NY. Lynn and Eric have two adult children, Rachel in San Francisco and David in Washington, D.C. His passions are baseball, rock and roll, politics, conversation and most of all, family and friends. His wife, Lynn, daughter Rachel, son David, daughter-in-law Lisa and granddaughter Juliet are all baseball fans.

---
ERIC C. GRAY'S CONTACT INFORMATION
Eric C. Gray
eric.baseballstories@gmail.com
H – 1-415-586-8810 C – 415-971-5370
Website: https://basestobleachers.com/
FB - https://www.facebook.com/BasestoBleachers/
Instagram - https://www.instagram.com/eric.baseballstories/
Goodreads - https://www.goodreads.com/book/show/45144933-bases-to-bleachers (Bases to Bleachers)
Goodreads - https://www.goodreads.com/book/show/62036908-backyards-to-ballparks?ac=1&from_search=true&qid=pUMC3UKoQp&rank=1 (Backyards to Ballparks - New)
Amazon Author Page - https://www.amazon.com/Eric-C-Gray/e/B07V262R97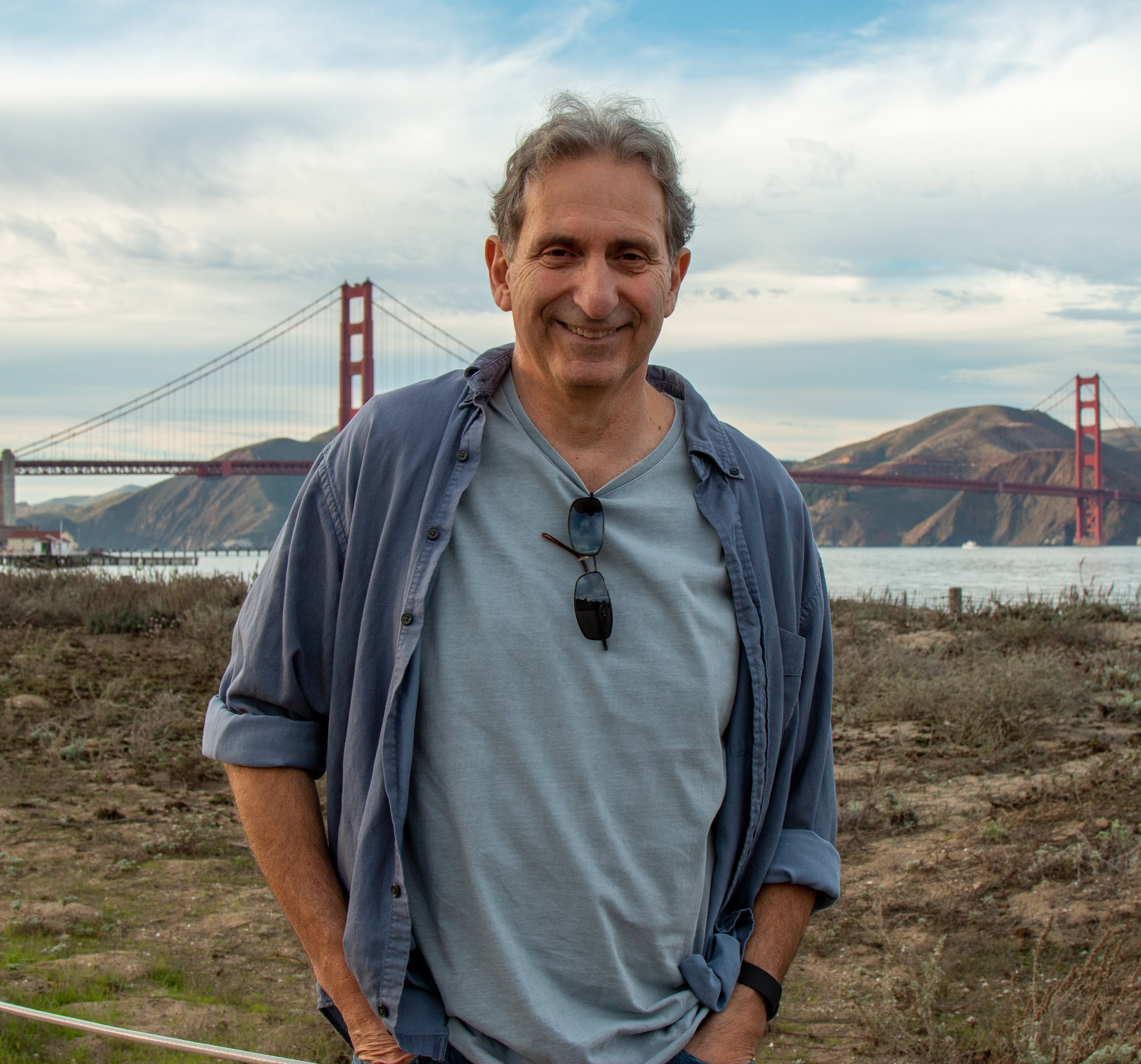 ---
Book Details
Paperback: 406 pages
Publisher: Palmetto Publishing Group (Tell Me Your Stories) (July 13, 2022)
Language: English
ISBN-13: 979-8-88590-465-0
Product Dimensions: 6 x 0.83 x 9 inches
Shipping Weight: 1.2 pounds
Distributed through IngramSpark
Also available as e-book – Kindle and Nook versions

For sale on:
Amazon - https://www.amazon.com/Backyards-Ballparks-Personal-Baseball-Stories/dp/B0B81BCH1D/ref=tmm_pap_swatch_0?_encoding=UTF8&qid=&sr=
Barnes and Noble - https://www.barnesandnoble.com/w/backyards-to-ballparks-eric-c-gray/1141906277?ean=9798885904650
and, as well as other online sites.

---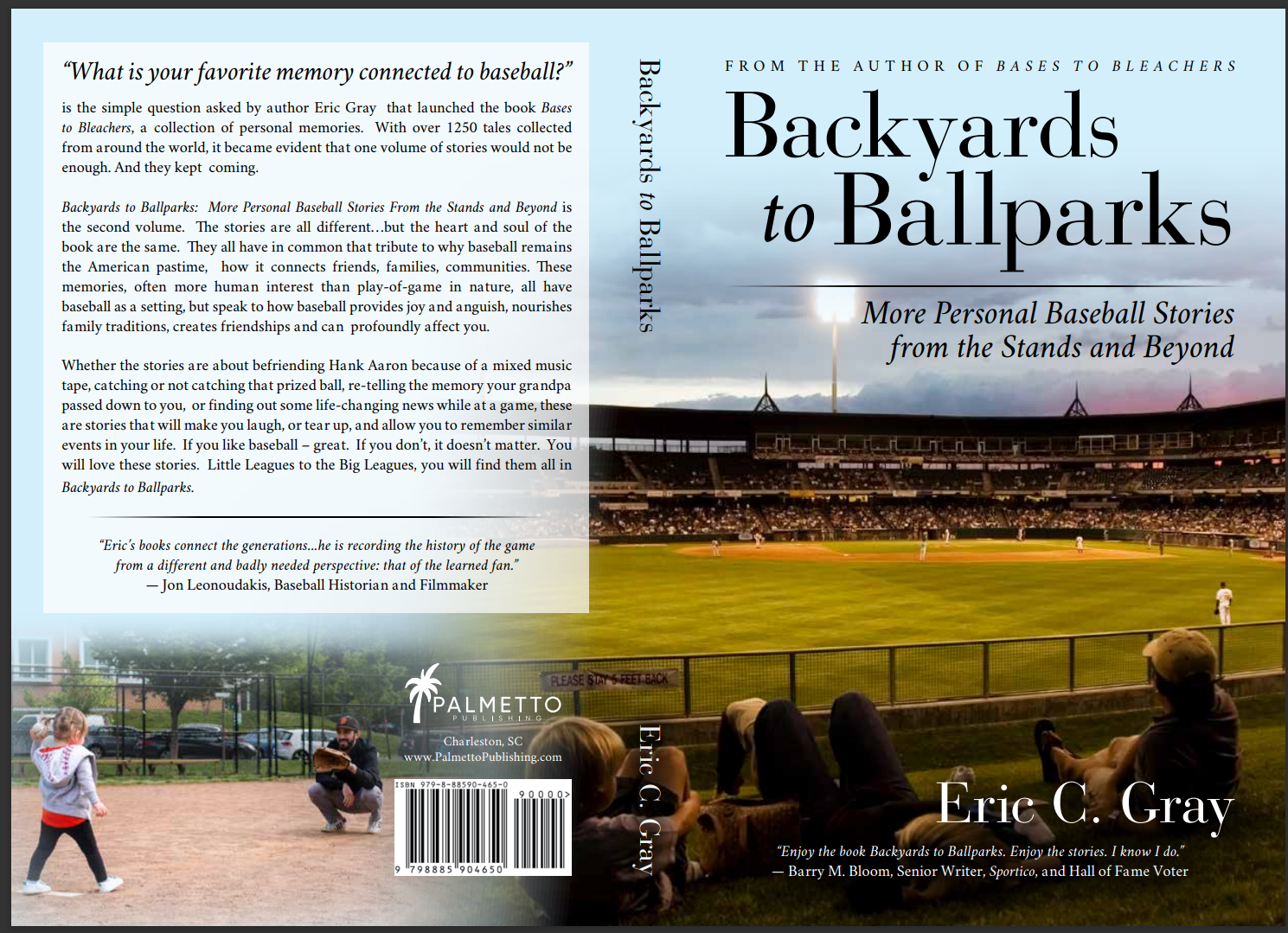 BOOK BLURB
"What is your favorite memory connected to baseball?" is the simple question asked by author Eric Gray that launched the book Bases to Bleachers, a collection of personal memories. With over 1250 tales collected from around the world, it became evident that one volume of stories would not be enough. And they kept coming.
Backyards to Ballparks: More Personal Baseball Stories from the Stands and Beyond is the second volume. The stories are all different...but the heart and soul of the book are the same. They all have in common that tribute to why baseball remains the American pastime, how it connects friends, families, communities. These memories, often more human interest than play-of-game in nature, all have baseball as a setting, but speak to how baseball provides joy and anguish, nourishes family traditions, creates friendships and can profoundly affect you.

Whether the stories are about befriending Hank Aaron because of a mixed music tape, catching or not catching that prized ball, re-telling the memory your grandpa passed down to you, or finding out some life-changing news while at a game, these are stories that will make you laugh, or tear up, and allow you to remember similar events in your life. If you like baseball - great. If you don't, it doesn't matter. You will love these stories. Little Leagues to the Big Leagues, you will find them all in Backyards to Ballparks.
---
Chapters in Backyards to Ballparks
Bonus stories from Bases to Bleachers
My First Game
To Catch a Ball...or Not
An Autography, a Photo, a Chat with a Star
Making Out the Lineup: the Coaching Experience
Balls, Strikes, Yer Safe, Yer Out: the Art of Umpiring
Ushers and Vendors and Bat Boys, Oh My
The Bats and Balls and Gloves that Bind: Family and Baseball
I Saw It on TV, I Heard It on the Radio
Bunts
Singles
Doubles
Triples
Home Runs
My Player, My Team, My Game: What Baseball Means to Me
Mickey, Willie, and the Stars of the Golden Age of Baseball
That Special, Famous, Emotional, Momentous, Groundbreaking Game
Just Another Day at the Park
We All Have Good Days and Bad Days
Stories Handed Down
---
REVIEWS OF BASES TO BLEACHERS
Everyone who loves baseball has a story ... This wonderful book by Eric Gray compiles them.
Peter Golenbock, author of Dynasty, The Bronx Zoo (with Sparky Lyle), and Number 1 (with Billy Martin)
… It is this never-ending love that is instilled in this book. This book would not have been written unless Eric had a strong love for this game and wanted to share his story about the love he has for baseball….This Book is a remarkable read I hope you can enjoy it as much as I have.
John D'Acquisto, Author of Fastball John
Eric Gray's book pays homage to the love of "the one constant through all of the years", the game of baseball. He does so with an anthology of anecdotes from ordinary fans (and some celebrities) about what baseball means to them, and how the game made memories that have lasted from generation to generation. … I could not stop reading it. I finished it in less than three days because each anecdote provided some comfort and meaning that I could identify with as a baseball fan.
Harold Kasselman
Written by fans for fans, this excellent collection of baseball stories is sure to have something for everyone. Because it is a collection, the book can be digested in whatever manner a reader wishes. It can be read for a short time, picked up later and continued or a reader can read through the stories in one sitting. No matter how someone reads it, "Bases to Bleachers" is sure to be a hit with any baseball fan.
Lance Smith, The Guy Who Reviews Sports Books
I have been reading the book Bases to Bleachers written by Eric C. Gray and I have to say that it is truly a great read. I find it hard to put down at times and the stories are great. For some of us the game of baseball has many great memories spent with family and friends. I myself often think about my dad and our times spent at the ballpark. …Eric has done an outstanding job with this book. I would suggest that you go out and get yourself a copy of it believe me you will not be disappointed.
Bill Shelly‎ to Baseball For The Love Of The Game
The sharing of stories and oral histories are absolutely vital as part of American history and culture. Thank you so much for producing this magical tome. Your love and passion for the game shines through, producing a warmth and glow that is good for the soul…

Jon (Leonoudakis), baseball zealot and Film Producer