---

Jon Leonoudakis to Eric C Gray
September 19, 2019


AN EVENING OF STORYTELLING & BASEBALL MAGIC!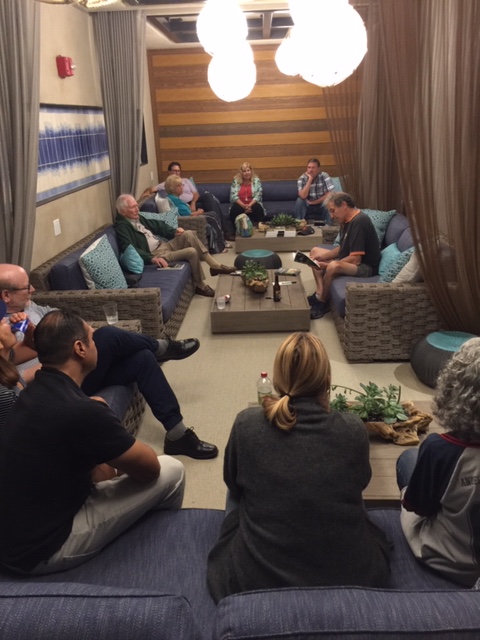 Many thanks to author and good friend Eric C. Gray for last night's reading event in Marina del Rey of excerpts from his new book, "Bases to Bleachers."

The book is a collection of baseball stories shared by fans of the game, ranging from Little League to MLB. I am honored to have my story of watching Roberto Clemente make the greatest put-out I've ever seen in person make the cut (a 1971 night game at Candlestick Park).

About a dozen were present, representing the Dodgers, Angels, Giants and their love for our national pastime. My favorite part was meeting those fans, especially 88-year-old Ed, who shared stories of selling peanuts in old Yankee Stadium in the early 1950s, as well as his flight from LA-Dallas seated next to his baseball hero, Mickey Mantle.

#basestobleachers #baseball #baseballstories #ericcgray


---


Jared R Famularo is with Eric C. Gray.
It was April 8th, 2016 and I was in San Francisco to finally see the Giants play ball in person. This was second of the 2 games at what was then AT&T Park that I would have the pleasure of spending a small fortune on to see during this trip. It was a great game despite some rain, especially when Brandon Crawford hit a walk-off homerun in the bottom of the 10th to beat the Dodgers 3-2.
However, it wasn't the game itself that would make such a great memory, it was the man and his wife that I was sitting next to that would. The man and I started chatting, and if I recall correctly, as his wife rolled her eyes and told him to leave me alone he told me about how he was writing a book about baseball memories. He introduced himself as Eric Gray. I started telling him a little about myself to reciprocate and about some games I had been to and about this trip itself. As we continued to chat throughout the game, I started to tell him about my volunteering as a little league umpire and now he seemed to be intrigued. I won't get into the stories we discussed themselves but I supposed he had heard something interesting from me as he took me to buy me a soda.
Fastfoward to 2019, Eric and I still keep in touch through Facebook and email. I had strong beliefs over the past 3 years that his dream of his own book would come to fruition. And, well, now it has. Just a couple days ago, my personal signed copy showed up in the mail. My umpiring story isn't in this book but as he has told me it is slated for a second book. Despite my story not being in the book, I have been waiting 3 years for the chance to read the stories he has collected and just flipping through the pages I was in shock when I saw my name it in.
Congratulations Eric Gray!

---
Eric C. Gray your book is in the Cooperstown Hall of Fame ! Congratulations!
My friend has written a book called " Bases to Bleachers ". It is a very witty , humorous collection of real stories of the great game of baseball. It is WONDERFULLY written even though Eric is a GIANTS fan.
It can\me out in June I believe . If you are looking to get someone a nice Christmas gift go to Barnes and Noble. If it isn't in stock ask them to order it for you. It will come to your house, OR ask Eric to send it to you. He has stock on hand.