Backyards to Ballparks: More Personal Baseball Stories from the Stands and Beyond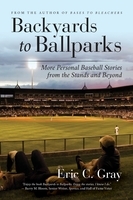 More Personal Baseball Stories from the Stands and Beyond
Published by Palmetto Publishing, Tell Me Your Stories
"What is your favorite memory connected to baseball?" is the simple question asked by author Eric Gray that launched the book Bases to Bleachers, a collection of personal memories. With over 1250 tales collected from around the world, it became evident that one volume of stories would not be enough. And they kept coming.
Backyards to Ballparks: More Personal Baseball Stories From the Stands and Beyond is the second volume. The stories are all different...but the heart and soul of the book are the same. They all have in common that tribute to why baseball remains the American pastime, how it connects friends, families, communities. These memories, often more human interest than play-of-game in nature, all have baseball as a setting, but speak to how baseball provides joy and anguish, nourishes family traditions, creates friendships and can profoundly affect you.
Whether the stories are about befriending Hank Aaron because of a mixed music tape, catching or not catching that prized ball, re-telling the memory your grandpa passed down to you, or finding out some life-changing news while at a game, these are stories that will make you laugh, or tear up, and allow you to remember similar events in your life. If you like baseball - great. If you don't, it doesn't matter. You will love these stories. Little Leagues to the Big Leagues, you will find them all in Backyards to Ballparks.
Ebook | $9.99 USD | 979-8-88590-466-7 | July 13, 2022